Lin, S.C. and Al-Kayiem, Hussain H. and Owolabi, Afolabi L. (2013) Experimental investigation on the effect of PCM and nano-enhanced PCM of integrated solar collector performance. In: The Sustainable City VIII. WIT Transaction on Ecology and the Environment, 2 (179). WIT Press, UK, pp. 899-909. ISBN 978-1-84565-887-9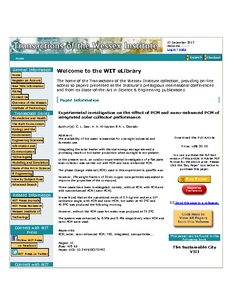 Preview
PDF




Saw SC in Wit.pdf


Download (294kB) | Preview
Abstract
The availability of hot water is essential for overnight industrial and domestic use. Integrating the solar heater with thermal energy storage showed a promising result on hot water production when sunlight is not present.
In the present work, an outdoor experimental investigation of a flat plate solar collector was carried out with PCM and nano-enhanced PCM. The phase change material (PCM) used in this experiment is paraffin wax. However, 1% weight fraction of 20nm copper nanoparticles was added to improve the properties of the compound. Three cases have been investigated, namely, without PCM, with PCM and with nanoenhanced PCM (nano-PCM).
It was found that at the operational mode of 0.5 kg/min and at a 10º inclination angle, with PCM and nano-PCM, hot water at 40.2ºC and 40.8ºC was produced the following morning. However, without the PCM case hot water was produced at 35.2ºC.
The system was enhanced by 6.9% and 8.4% respectively when PCM and nano-PCM were used.
Actions (login required)